Hey girlies! Guess where I'm blogging from today :) hehehe. Laurie's house. It's 10:15pm, all the Harty kids are snuggly tucked into bed, and I grabbed a movie and headed for her house. And brought my laptop, of course. I've already designed, but need to blog. SO, I figured I could blog AND watch a movie. BUT, she's on the phone with her hubby in Iraq, SO, I can blog, AND still watch the movie. See how good things work out :)
Anyway, I should have been super tired when I woke up this morning, but surprisingly, I was ok. I hopped right up, got the kids going, dressed, fed, the routine, and out the door. I facebooked for a minute, started a load of laundry, picked up a little bit, and got my workout clothes on.
I grabbed an apple and a Pepsi One (gross, Pepsi, I know - it was on sale and Coke wasn't.... and they were out of Mt Dew) and headed to Andreas house. She and I and Laurie went walking. It'd been a long time since Laurie joined in our morning walk! She'd been doing P90X, and was getting all buff, while Andrea and I just walk. Oh well. hehehe. We have SO much fun walking and chatting.
Got home, got changed and dressed and all pretty, and helped Jake with school for a bit, and then the girls and I headed out to lunch. We went to Carlos and Mickeys, and it was SO much fun. It was Laurie and I and Leigh and Andrea and Veronica and Hilary. As I was writing this, I wondered if they would be offended if they weren't listed first.... Like I was playing favorites.... So I went and put it in order of appearance - ROFL! I rode with Laurie - ha! See, no favorites - you are ALL my favorites :)
Anyway, it was a GREAT lunch. Afterwords, we dropped by Walmart, and I ordered some new contact for myself and Jacob. I had the prescription, so it didn't take too long. AND, since I save 40 a month for Eye Doctor, I had cash to pay for it. Sa-weet! Thank you, Dave Ramsey plan...
Headed home, got the kids from the bus, and spent the rest of the early evening at home. I helped Jake refine his research paper, Tom helped Eme with her research report, Joe worked on his homework. I designed for a little while.
At 6:40, we headed over to the church. It was a Court of Honor for the Boy Scouts, and Jake was going from 2nd Class to 1st Class. I really wish Captain America could have been there. He did call from the field, and wanted me to make sure that he knew that his dad was thinking of him, and wished that he could have been there. It was so sweet.
I took some pics, and texted them to Captain America. Almost as good as being there, right? We came home after Scouts, and I put the little kids to bed. Eme and Tom and Jake and I worked on getting the chores done again, and the house clean. Jake went to bed after another load of dishwasher dishes were done.
I designed my freebie, and as I was saving it in the file folder labeled (15 Apr - Thurs), I realized what date that was. April 15th. TAX DAY!!! Holy crap! I'd already filed for federal, received my return, and stashed it away. State? Yeah, it wasn't in the mail!
SO, I dug through my room, looking for the right folder, and finally found it. Luckily, back on the 8th, I'd had Captain America sign it. I grabbed the state copy, the federal copy, ALL the many W-2's and such, stuffed it in an envelope, addressed it, weighed it, used www.usps.com to determine that it needed 2 stamps, and was done with it. Pfew! That was close. See, blogging every evening DOES has its advantages :)
So I checked on the kids, gathered up my stuff, and headed for Laurie house. And there you go. I'm all blogged. I'm all designed. Yeah for me :)
OK, treat for you today :) My good buddy, Jen, has a WONDERFUL new kit out, AND graciously let me play with it! I made 2 WordArts for ya. One for boys, and one for girls. But first, here's her new kit: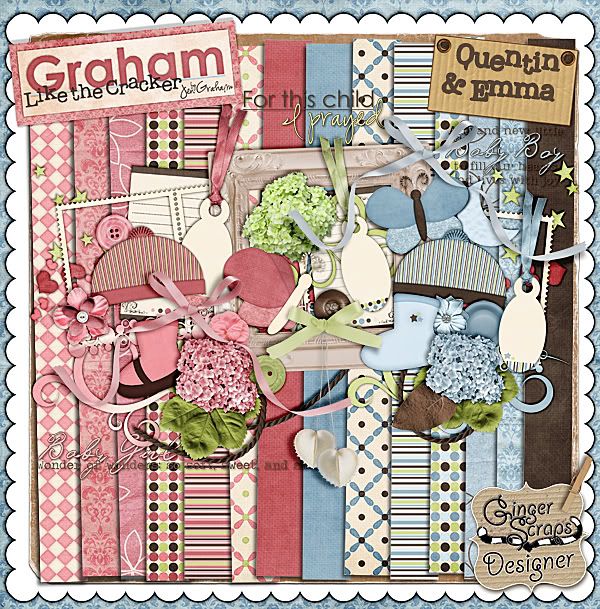 SO, she had the boy version on her blog (just click on the preview to go to her blog)
And I have the girl version! Isn't it pretty :P hehehe. I'm all about the baby attitude - ROFL! Anyway, click on the links below to go to my account to download the ZIP file, and leave some love if you like my work. Thanks!